I found this one at a garage sale. I'm so glad that I picked it up.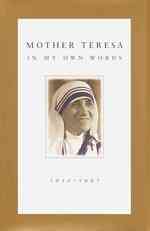 My Review
I, like many others I'm sure, feel that Mother Teresa was a great person. This book is full of quotes from her. It is awe-inspiring to me that she did such great things and was as humble about what she was doing as she was.
While reading these quotes I was struck by how simple the things she said truly were, yet in their simplicity lies their magnitude. She wasn't helping the poor because it made her a better person, she was helping the poor because it was what she was needed to do to strengthen her relationship with Jesus. Many times she mentions that she helps the poor because the poor are Jesus, and by helping them she is helping Jesus.
Reading these quotes from her was quite touching. I hope that by listening to the message that she was conveying that I can become a better person.
Click here to buy this book from
Amazon.com